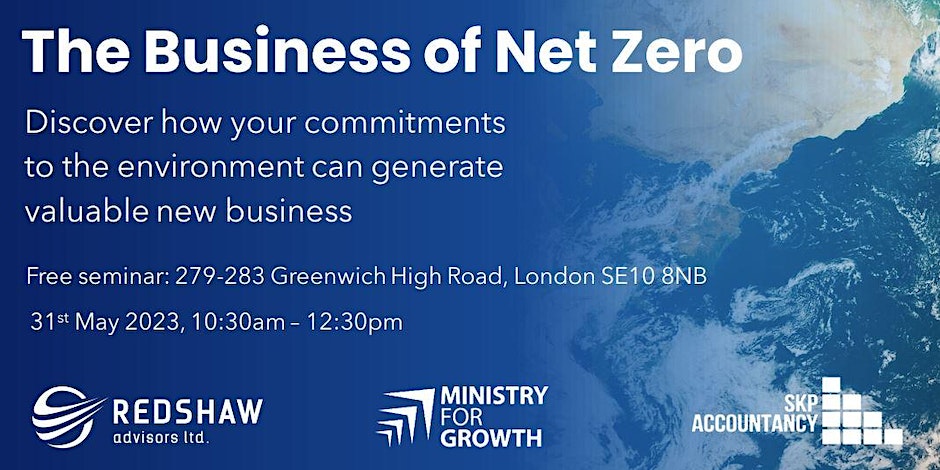 Date and time
Wed, 31 May 2023 10:30 – 12:30 BST
Location
279-283 Greenwich High Rd 279-283 Greenwich High Road London SE10 8NB
Businesses are increasingly concerned about how climate impacts will affect them. Find out how companies can align to net zero and enhance their brand value and business prospects.
We are pleased to invite you to our in-person networking seminar, where experts from Redshaw Advisors, Ministry for Growth and SKP Accountancy Services will gather to examine how best to align to net zero and win new business.
We will explore how to understand and identify all of the emissions within your operational control and mitigate those unavoidable carbon emissions.
NET ZERO STRATEGY
Companies that demonstrate their commitment to net zero are more likely to attract new customers, suppliers and partnerships.
Having a clear net zero strategy can be straightforward, with the right guidance and support.
COST SAVINGS
By reducing energy consumption, businesses can reduce their energy bills and avoid future carbon taxes or penalties from related emissions.
NEW BUSINESS
Learn how to demonstrate your environmental performance to retain and secure new business from larger customers.
By attending this seminar, you will gain valuable insights into how a net zero strategy can help your business reduce costs, improve its reputation, comply with regulations, and gain a competitive advantage in the marketplace.