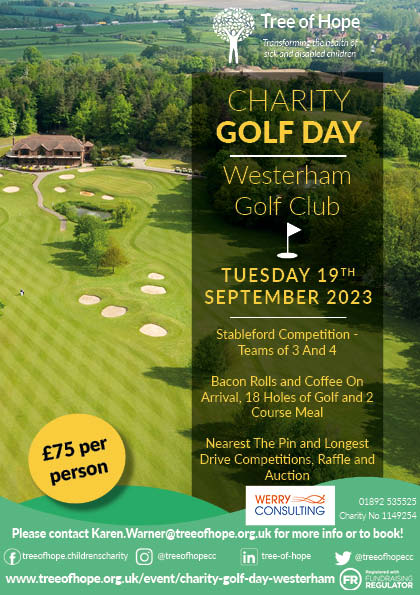 Message from Our CEO, Dawn Blee
It is with regret that we have postponed the Chamber Golf Day scheduled for 12th September 2023 due to the current wet weather conditions forecast for much of August delaying necessary maintenance work being undertaken on the course. We know how much the Nizel's course is enjoyed and the club team and Chamber would not want to have anything less than a good day's golf. We have another date planned when the course will be at its very best on Tuesday 30th April 2024.
CALLING ALL GOLFERS
TREE OF HOPE one of the Chamber charities of the year for Third Thursdays networking has a golf day at Westerham on September 19th and is offering a discount to Chamber members. 
£70 per person 
For more information and to book email: Karen Warner karen.warner@treeofhope.org.uk