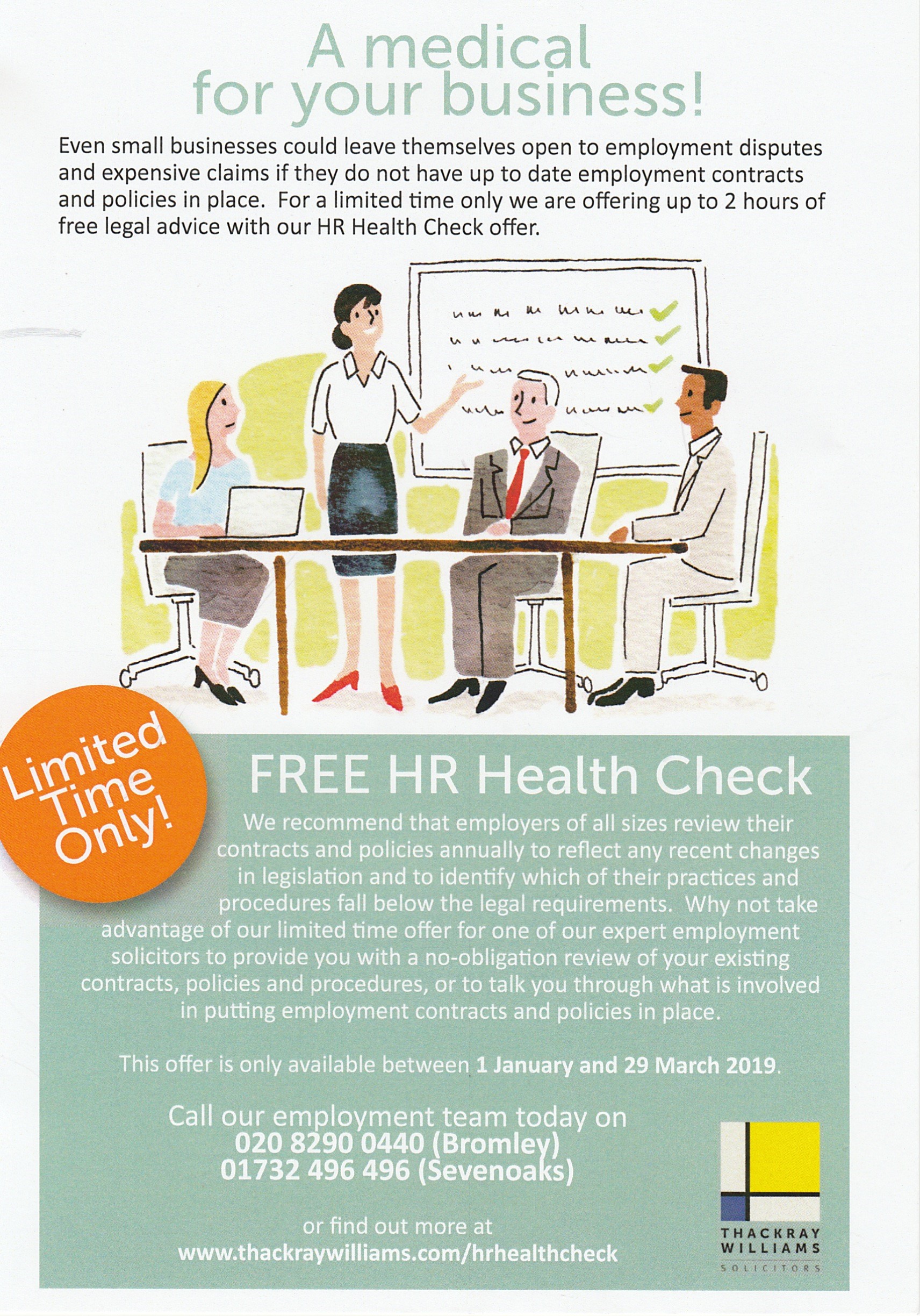 Expectations might have been low as to the anticipated turnout on the first working day of the New Year but we are pleased to have welcomed over 55 guests yesterday.  
Our thanks go to Thackray Williams for sponsoring the event and for providing a great insight into the law firm who recently opened a new office in Sevenoaks.  We heard from William Addis (employment solicitor) and Adrian Whichcord (Conveyancing Solicitor). William went on to announce the details of a limited time offer to undertake a FREE business HR health check for any Chamber members. The service, described as a free MOT for your business, is only available until the 29th March. Should members wish to take them up on this incredible offer they can contact Will directly for more details on 01732 496 496.
The Chamber introduced a few new initiatives to help the networking meetings run more smoothly for members. At every meeting there will now always be a list of pre-registered guests available at the registration desk. This will enable members to see who else is in the room, and you will be able to mark your interest for an introduction.  A board member will help facilitate the introduction if required. This is a way of helping our members make the most of networking. Our 'ideas board' will now be displayed at every meeting too. This will be a portable white board with some suggested themes for feedback.  We will be asking members to write comments to help us gain feedback and views on relevant business issues.  Both initiatives were suggested by Chamber members, we are always keen to hear your ideas!
Finally the charity raffle was won by James Crawley from JCM Advisors.  We will be sending out further details shortly about nominating a charity of the year to support at our future Sevenoaks meetings. 
Thank you again to Thackray Williams for their support in sponsoring our first networking of 2019.  We look forward to working with our members for another great year of networking.