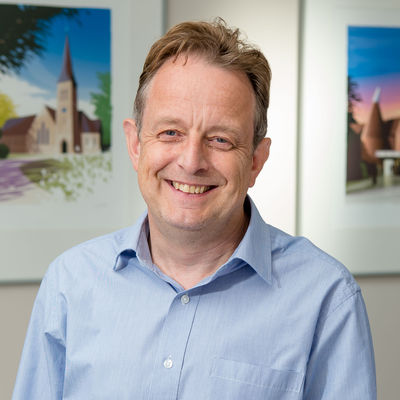 1. Tell us about your typical Monday morning? 
Being an avid twitcher I enjoy being outside so try to start the day with a walk in order to get some fresh air, hopefully see some interesting birds and prepare myself for the week ahead. 
2. Can you explain about Hilden Park and what you offer?
Hilden Park Accountants is a growing accountancy practice and we now have fifteen people working for us. We offer corporate and personal tax advice, accounting services, book-keeping and also incorporate a growing payroll bureau. Our clients include businesses, individuals, trusts and charities from across the South East.   
 3.Tell us something interesting about your offices?
We recently discovered that our premises in Hildenborough have been used in a variety of different ways over the years. They were originally a bakery, before becoming a dairy and then eventually in 1967 they became a doctor's surgery. I remember waiting in reception to see my doctor and collecting prescriptions from what is now one of our meeting rooms! The surgery moved out in 1991 and we moved here, from Tonbridge, later that year.   
4. What is hot news in the accounting world?
Covid-19 has brought challenges for businesses over the last few months and we have spent time talking and assisting clients with the various opportunities and assistance available from the government and other sources.
 
There have been many tax changes this year – not least with capital gains tax which affects the exit planning advice we give to business owners.
 
There will be further reforms in 'Intermediaries Legislation' in the next twelve months. This legislation, also known as 'IR35', will remove the tax advantages of providing services via a limited company for individuals (HMRC call them 'disguised employees') who are not really in business on their own account. This will affect large and medium-sized organisations who will become responsible for assessing the employment status of individuals working for them through their own limited company. 
5. How are you attracting and keeping your clients?
We pride ourselves on building lasting relationships with our clients and it is important to us that they realise their current potential and achieve their long term goals. The majority of our new business comes from existing client recommendations and word of mouth which is a good indicator for us that we are providing a service worth talking about.
6. What advice or services can you offer Chamber Members?
As a firm we offer a free initial consultation to all prospective new clients. In addition to this we also have a promotional offer available of a 12 months free Xero subscription to all new clients. We'll be here to give you a warm welcome so please feel free to stop by for a coffee.  
7. If you had more spare time, how would you spend it? 
I would love to travel more. Seeing the wildlife in the further away parts of Europe and a trip or two to South America are high on my to-do list.  I would also like to spend more time working with charities – I am currently a trustee of the Dungeness Bird Observatory which monitors bird migration and other wildlife in the area and am also involved with a charity helping children in poverty in Zimbabwe. 
Andrew can be contacted on 01732 838877 or 07921 101680
email: aappleton@hildenparkaccountants.co.uk
hildenparkaccountants.co.uk