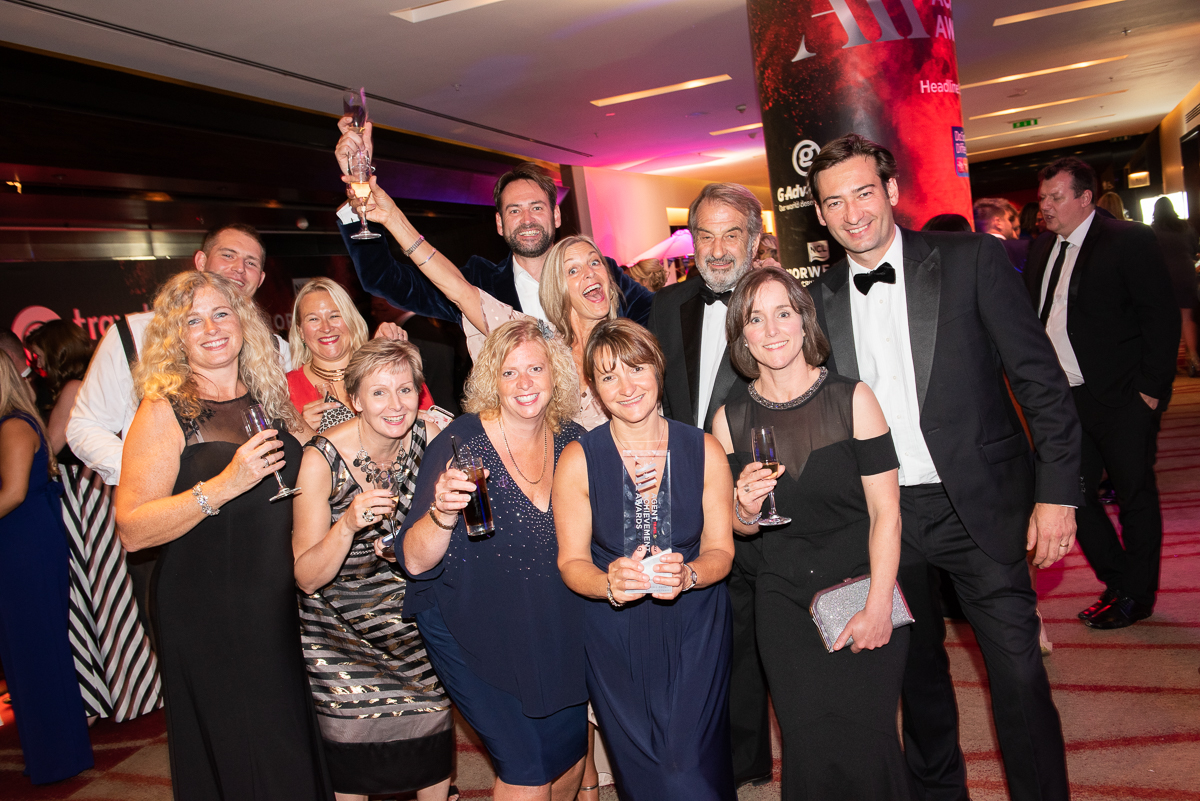 Chamber Member Baldwins Travel are delighted to share the news that at this year's Travel Weekly Agent Achievement Awards they have been awarded Travel Agent of the Year for London & the South East for the 12th consecutive year. In addition, they are delighted and proud to share that theey have been named National High Street Agency of the Year, for the 4th time since 2014…
Chairman Ron Marks and Joint Managing Directors Nick & Chris Marks, were joined by members of the Baldwins Travel family at a glamorous black-tie ceremony in London which was hosted by Travel Weekly editor-in-chief Lucy Huxley and comedian Joel Dommett.
The evening got off to an outstanding start when our Tonbridge Branch Manager Trevor Ridler was awarded the CLIA Cruise Master award. His dedication to the development of all of our sales team, through regular training and encouragement in all things cruise – plus his proactive approach to marketing this fast-paced sector – has led to this area of the business growing from strength to strength. Chris Marks, Joint Managing Director adds; "Trevor is a very driven and dedicated member of our team and this award is duly deserved. His passion and knowledge for cruise is exceptional and he shares this willingly with all our team."
The atmosphere at the Park Plaza in London was buzzing and as the anticipation mounted into the night, the announcement that for the 12th year running Baldwins Travel had been named 'Travel Agent of the Year for London & the South East' was met with rapturous applause.
As the awards ceremony neared a close it was then unveiled that Baldwins Travel had also been awarded the National High Street Agency of the Year award for the 2nd year running – and for the 4th time since 2014. For the first time all of the team members present joined the Chairman and Directors on stage for a celebratory photo call.
Nick Marks, Joint Managing Director says:
"We are so very proud of all 68 of our team members.  These awards are down to their incredible hard work and their spirit of enquiry. Their knowledge and confidence in what they do shines through alongside the passion that they all have for sharing the wanderlust and building long-lasting client relationships.  In my opinion this is unsurpassed within the travel industry. The Directors are so proud of the Baldwins Travel family and we dedicate this outstanding achievement to all of them."
It has been a truly winning week for Baldwins Travel. Just a few days before the awards, Nick and Chris came home triumphant after winning the annual 'Travel Trade Crusade' seeing them travelling across Europe for 4 days, undertaking challenges and raising funds for the charity Dental Mavericks. Their team raised an amazing £2500 and all the teams combined raised over £45,000 in total for their chosen charities.
Baldwins Travel; established in Tunbridge Wells in 1895, are eagerly anticipating celebrating their 125th anniversary in 2020. Baldwins Travel has thrived under the ownership of the Marks Family for over 25 years and has expanded to a total of 8 retail branches, each with their own Foreign Exchange service, throughout Kent & Sussex.  Baldwins Travel is recognised by the industry as the South East's leading independent travel agent, representing the best of high street and corporate travel management agencies. Their experts bring the human touch to finding the best travel solutions for you, and are passionate about using their expertise to deliver outstanding service and experience.
Baldwins Travel are constantly looking out for the best travel opportunities to share with their discerning clients, and only work with the best suppliers – those who share their commitment to providing the best possible customer experience. Baldwins Travel's obsession with travel means that they are dedicated to opening their clients' eyes to new and exciting travel possibilities.
For more information on these awards and for any publicity enquiries please contact our Marketing team on 01892 506444 or to book please contact your local branch:
Tunbridge Wells          01892 511999
Cranbrook                   01580 714411
Lewes                         01273 472466
Maidstone                   01622 762141
Sevenoaks                  01732 458255
Tenterden                    01580 764344
Tonbridge                    01732 351223
Uckfield                       01825 760488