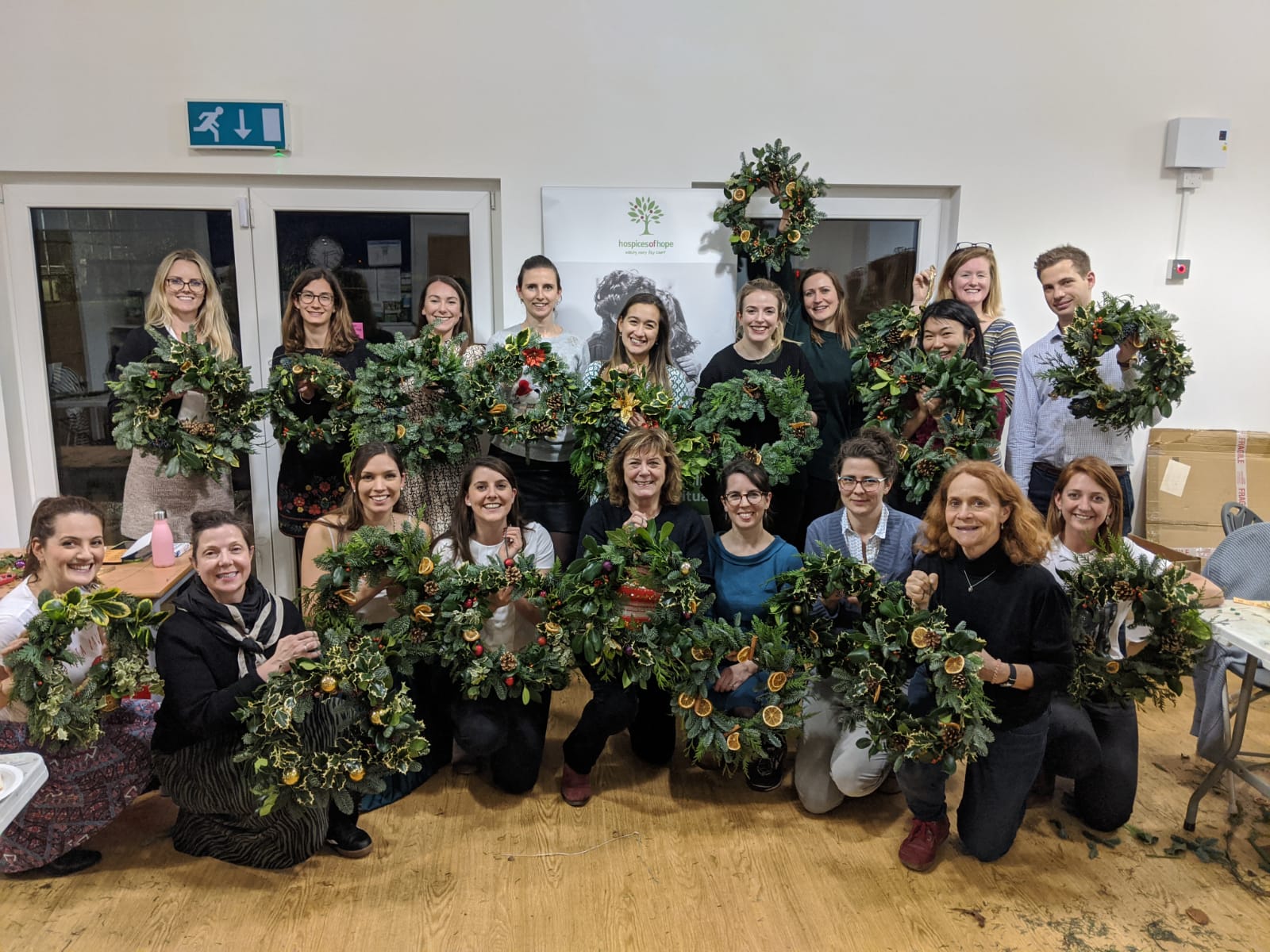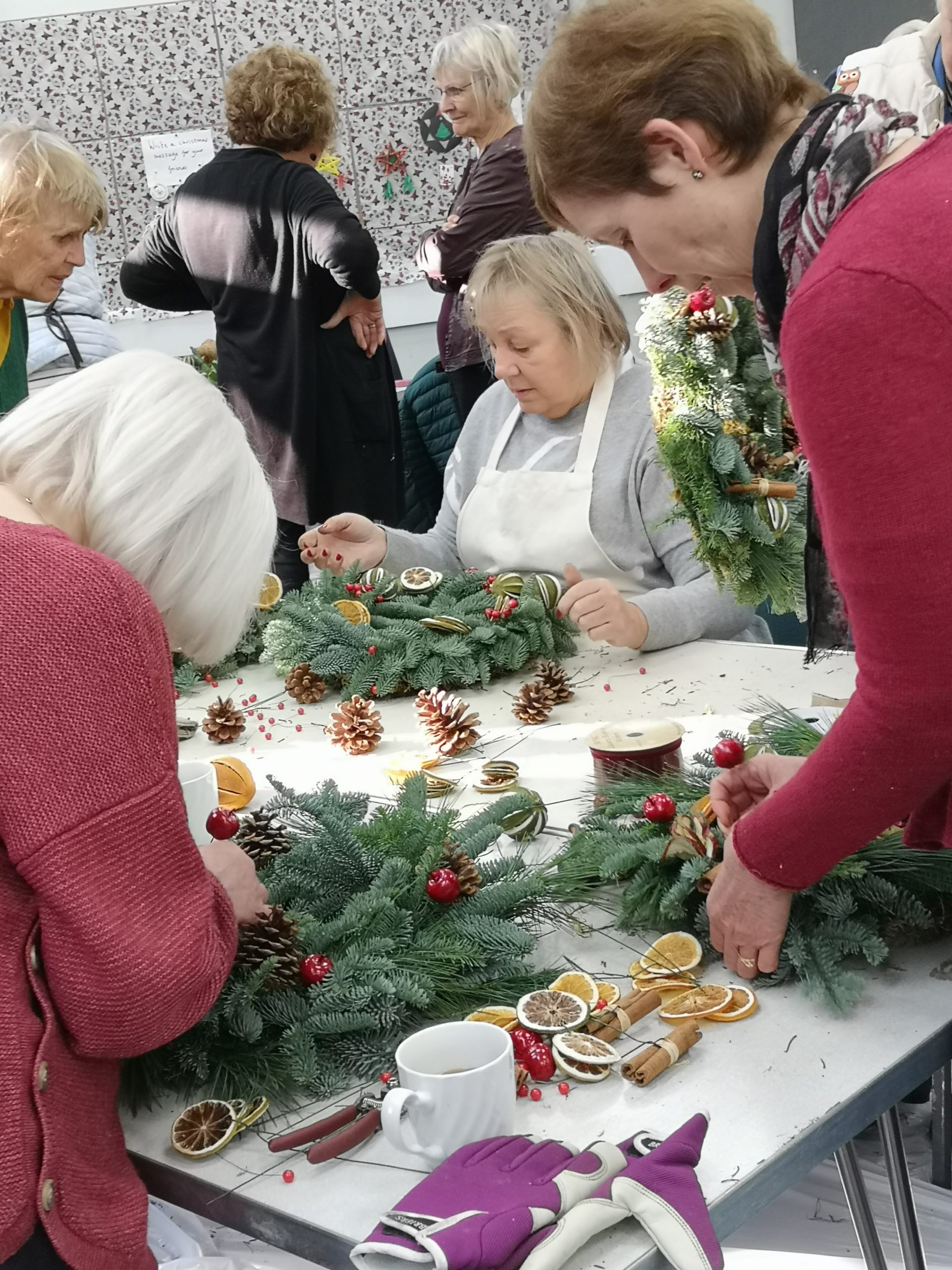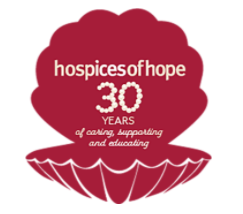 A Christmas Wreath hanging from a front door adds beauty and colour to the season and contributes more than just splendour. Pine, holly and yew symbolize eternal life; cedar stands for healing; laurel represents the conquest over pain and suffering; pine cones, seeds and nuts represent birth and rebirth. A Christmas Wreath emits its own unique perfume and is a welcoming sight for visitors as they approach a front door.
Hospices of Hope will be providing Christmas Wreath Workshops this year to enable green-fingered wreath enthusiasts to join the friendly warmth of the Workshops and fashion their own unique wreaths. All materials will be supplied, so attendees will only need to bring their own secateurs, gloves and creativity! Refreshments and a light meal will also be provided.
Why not make a day of it; enjoy good company; share similar interests and create your own "one-off" wreath?
The details:
Cost: £40 pp – and includes all materials, refreshments and a light meal.
Venues:
Bessels Green Baptist Church, Bessels Green, Sevenoaks, TN13 2PS – 6th December, from 10:30 am – 2:30 pm. To book your place HERE
All Saints Church, Church Road, Chapel Green, Crowborough, TN6 1ED – 8th December, from 6:30 pm to 9:30 pm. To book your place visit:HERE
Anna Perolls, CEO at Hospices of Hope, adds: "
The Charity's Christmas Wreath Workshops are a symbolic marker that Christmas is very close. Previous participants have hugely enjoyed their day with great company – achieving some stunning wreath creations – and great food! We advise booking ASAP this year as the Workshops are very popular! We will be marking our 30th Pearl Anniversary at the Workshops too. Many of our participants will have supported the Charity over the last 30 years, from 1991 to 2021. During that time we have cared for more than 50,000 patients and their families in their grief. Our hospice teams have provided more than 30,000 training sessions for medical professionals; 547 doctors have been trained since 1991. There is a tremendous amount of work yet to be done. With the help of our sponsors, supporters and fundraisers, we look forward to the next 30 years with optimism and hope".
Hospices of Hope is using its 30th Pearl Anniversary as a force for good to build on its vital hospice care and comprehensive training services for South East Europe.  Much work still needs to be done to both protect and provide for people in needless pain. The Charity believes that everyone affected by life-limiting illnesses should have access to free care and that their families should receive counselling and support. The Charity relies almost entirely on voluntary donations and thanks to the generosity of its supporters has been able to continue its vital work in the region.