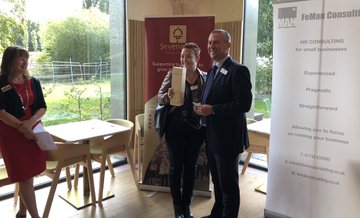 We kicked off the autumn season in style last Wednesday at our Sevenoaks Networking at the fabulous Wildernesse House in Seal, Sevenoaks. A full house of members and guests added to the vibrant atmosphere with some great business networking taking place.
We were fortunate to hear from our sponsor for the meeting, Mike Clyne from FeMan Consulting who gave out a card to all attendees with some HR related matters for all companies to consider. Even if you couldn't join us for the meeting, the details of Mike's suggestions are shown below:
Nine ways to help your company:
Do your employment contracts help protect your business effectively?  For example, do they include matters such as conflicts of interest, confidentiality, Intellectual Property?
Are you conducting effective pre-employment checks on new employees?  Do you know who you are hiring?
Are your policies and procedures up to date?  What about newer issues e.g. social media?
Does your business conduct 'Right to Work' checks on all new (and existing) employees?
How effective is your hiring process?  Do you ever review this process?
How good are you at getting new employees to be quickly effective? (On Boarding)
Is the money you spend on employee benefits wisely spent?  Do the employees understand the value?  Do you ever tell them how much it is worth?
Does your company have overall objectives that drive the individual performance objectives for your employees?  Is their performance linked to that of the company?
Are you avoiding difficult employee relations issues?  Will they improve on their own or get worse?  Will it end up costing you money it shouldn't?
If you have any questions on these or other HR related issues please contact Mike.
Mike is also involved with the organisation of the Sevenoaks Triathlon that takes place on the 19th April next year.  Mike and the Chamber have teamed up to encourage Chamber members to join in a relay team for the event.  An award will be given to the fastest Chamber team! We have already had some interest in taking part, so please do get in touch with us if you would like to know more at info@sevenoakschamber.com.
Our thanks go to the team at Wildernesse House for providing such a stunning mid-morning feast for us and for hosting us once again at the Pavilion Restaurant. General Manager Tyna Carter was able to offer an update regarding the Pavilion Restaurant at Wildernesse House:
'Having enjoyed tremendous and much appreciated support from Sevenoaks in general and Chamber members in particular, during recent soft launches and receiving very helpful feedback, we are now taking a little time out to discuss the wishes of our owners in residence and review lesson learned, to allow us to work towards an official launch of the Pavilion Restaurant at the appropriate time. On official opening, the Pavilion Restaurant will enjoy an appropriate marketing campaign with social media coverage, so absolutely no chance of missing us! With thanks for your generous support '.
The charity for this particular event was in support of The Running Charity who support homeless young people through running. We are pleased to announce we raised £65 in the business card draw and would like to congratulate Jane Beer Jones from Sevenoaks Rugby Club for winning!