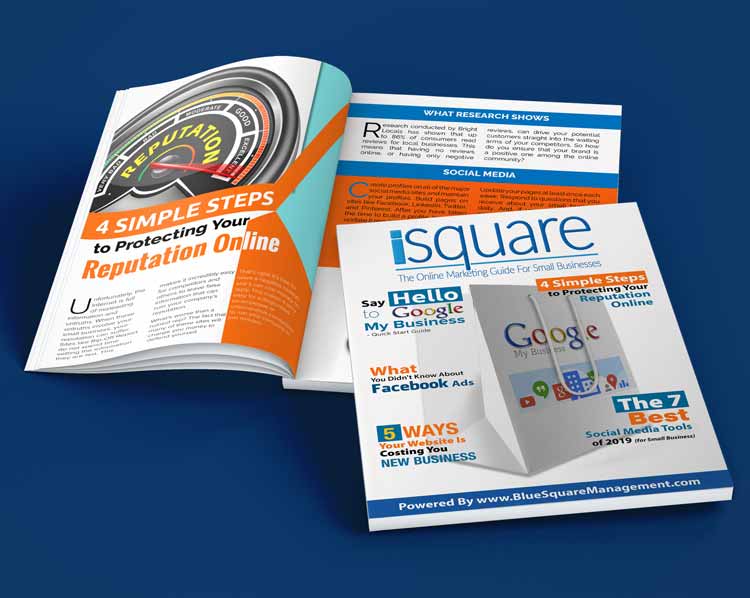 Your Online Marketing Guide For Small Businesses
Blue Square Management have launched a FREE monthly online digital marketing magazine called "iSquare: The Online Marketing Guide For Small Business". It is aimed at providing helpful internet marketing tips that can help businesses improve their online presence and ultimately get more customers, clients and patients. Paul Birkett from Blue Square Management, a Kent Digital Marketing Agency had this to say about the new magazine:
"There is so much marketing advice online these days, I thought it would be good to create a single resource that business owners could go to. Even now, many business owners think just because they have a website their potential customers will easily find them. Unfortunately, that is not the case. So I wanted to educate and provide helpful advice that will help them promote and market their businesses on the internet."
Over the coming months, the magazine will cover:
How to protect your businesses reputation
How to use LinkedIn
How to use video and YouTube (if you know Paul, he is passionate about video!)
Using Pay Per Click (PPC) advertising
How to dominate Local SEO : getting found by your customers
And MUCH MUCH more…
How To Get Your FREE Digital Marketing Magazine?
iSquare: The Online Marketing Guide For Small Business is only available to subscribers of Blue Square Management's monthly newsletter and cannot be found anywhere else. Saying that, it is very simple to sign up for…just add your name and email address, press submit, confirm your email address and you'll be sent a link to download your first issue. Subsequent issues will be sent to your email inbox automatically. You not only get your free digital magazine; you will be kept up to date with Blue Square Management's latest news and helpful articles.
CLICK HERE to get Your FREE Digital Marketing Magazine TODAY!