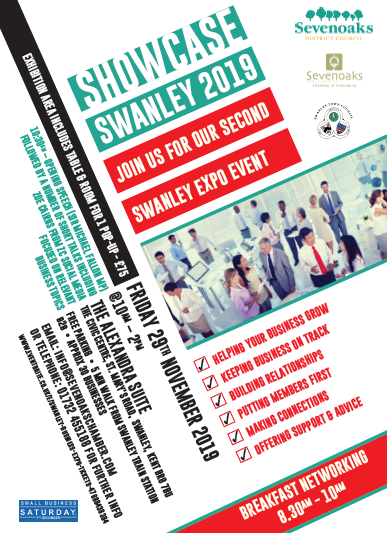 We had a fantastic Showcase Swanley Business Expo in support of Small Business Saturday last Friday at the fabulous Alexandra Suite, Swanley. The networking prior to the event was very busy and we had a large group for the opening of the Expo by the Rt Hon Sir Michael Fallon MP, who was on his last official duty as MP.
Our thanks go to Sevenoaks District Council as our headline sponsor and also Thackray Williams and UandI Plc. Thanks also to Swanley Town Council for offering the Alexandra Suite and ensuring the day went smoothly.
We had some great guest speakers and workshops during the day that proved popular among guests and exhibitors alike. Topics discussed:
We had over 150 people registered for the day with a number of drop-in visitors. Bresser Photography kindly provided images of the day that can be seen on our image gallery. 
This was our second Showcase Swanley Expo and the event was a great success. We hope to make this an annual event and continue to provide business networking in Swanley throughout 2020. 
If you would like to know more about the exhibitors, or get involved with networking in Swanley please get in touch with the Chamber of Commerce HERE