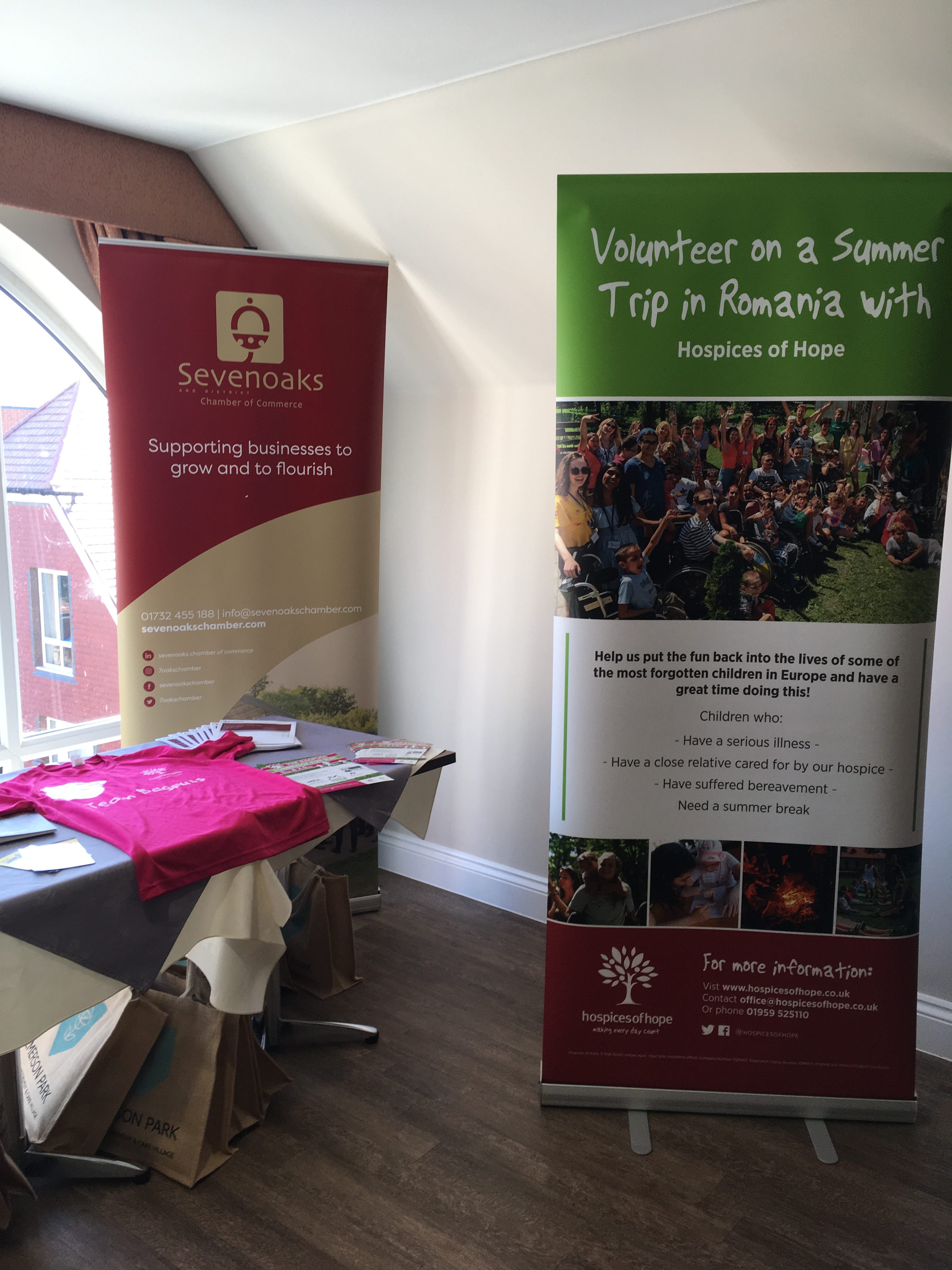 Thank you to members and guests who attended the Swanley networking meeting at the fabulous Emerson Grange care home that provides the most luxurious surroundings and the very best nursing, residential and dementia care. We were treated to a fantastic spread and every attendee took home a goody bag to celebrate the 1-year anniversary of the retirement village.
Our thanks go to Sam and Aadil and the team for hosting us.  If you are interested in finding out more about the development, facilities and opportunities/events available please contact Sam or Aadil on 01322 610 090 or attend the next open day on Saturday 28th September.
Anna Perolls, Fundraising & Resources Director from one of our Chamber Charities of the year gave a fascinating insight into her involvement with Hospices of Hope. Anna is the youngest daughter of Graham Perolls OBE, the Founder of the Ellenor Hospice in Kent and this charity.
Hospices of Hope has led the way in developing hospice care for terminally ill children and adults in Romania and surrounding countries over the past 28 years. Their services had already reached more than 40,000 of the most disadvantaged people in Europe. They seek to ensure that all their patients are given the best possible pain relief and holistic support for each day that they have left. In addition, they have provided more than 20,000 training sessions in palliative care for thousands of health care professionals from more than 19 countries in that region.  
Anna shared the story of Andrei who became part of the hospice family in 2004 at the age of 10. Andrei sadly lost his battle with his illness (muscular dystrophy) 2 years ago but because of the many supporters who have contributed and donated to the Hospice in Brasov Andrei was able to receive 13 years of comfort and joy he never thought he would have. After seeing the hope and desire of patients to live a few years, months or even a few days more has inspired Anna to continue to fundraise for Hospices of Hope.
She thanked the Chamber for all the support given over the past year and urged everyone to get involved with the BAGPUSS FUN RUN which is taking place at Tonbridge School Centre on Sunday 13th October. The course is great for people with all abilities and the much-loved mascot will be there!
The fundraising calendar of events for 2020 is currently being put together and the charity are asking for businesses to sponsor an event for the small cost of £250. To further support Hospices of Hope and get involved please contact Jay Finch on 01959 525110 or email jay@hopsicesofhope.co.uk
The Next Swanley networking will be on 29th November as part of the Swanley Business Expo at The Alexandra Suite. Networking will be at the earlier time of 8.30-10.00 with the Expo running from 10am – 2.00pm.  Exhibition stands will be available to book soon at the cost of £50 for Chamber Members and £75 for non-members.  Spaces will be limited so please register your interest as soon as possible. Please encourage other local Swanley businesses to get involved and extend the invitation to your wider business networks and spread the word.
Once again, we raised money for our Chamber charities of the year with our business card draw which was won by Kirsteen Allen from Ten2Two who won a bottle of Prosecco. Kirsteen has been a member of the Chamber for 7 years and is also a current board member – she has never won a Wednesday Charity prize!
Photographs of the meeting which can be seen on the image gallery HERE