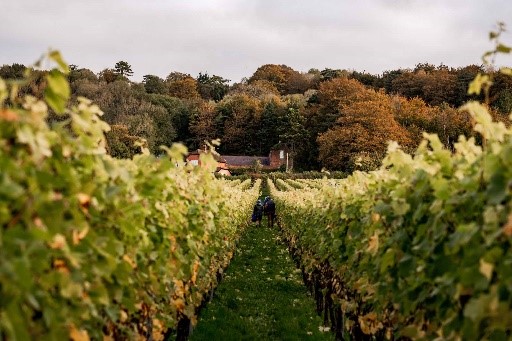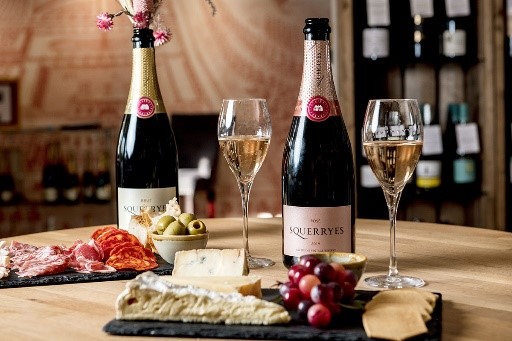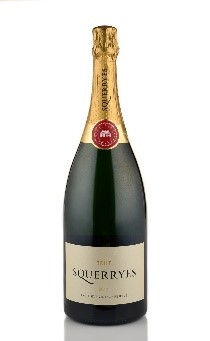 At Squerryes Vineyard in Westerham, Kent, we can now see the fruit ripening perfectly on the vines in the lovely, early September sunshine, arriving at just the right time in the harvest cycle.
The process we are currently entering into is known as veraison where the organic acidity levels begin to decrease and the natural sugar levels in the berries rise. We can see the grapes begin to increase in size and the aromas and flavours intensify too.
In around six weeks' time the grapes will be fully ripe and the harvest will begin, just at the time when the Vineyard takes on the glow of autumn with warm, rich vibrant colours we look forward to seeing at this time of year.
Higher than most vineyards at an altitude of 150 metres above sea level, Squerryes has a slower ripening process than some other vineyards. This means we enjoy an evenness in the crop and our grapes have a vibrant acidity which helps wine to age.
A recent survey by Knight Frank highlighted that Kent is the sunniest county in the UK which is certainly beneficial to the vines at Squerryes.
Squerryes owner, Henry Warde, said: "The last time we had identical weather to this year was in 2014, when we had a warm June which was ideal for ensuring a great fruit set with good bunch numbers, followed by a wet July and August with warm nights, followed by a lovely sunny start to September.  With these ideal conditions we are hoping for another award-winning vintage from this year's harvest. 
"The magnificent award-winning vintage of 2014 is now only available to enjoy from Squerryes Winery as a magnum although, during our harvest celebration (11-27 October), we are offering visitors the opportunity to enjoy it by the glass in the Deli and Winery Restaurant (£14 per glass). Find out more here.
Squerryes is also preparing a new Harvest Menu which will be available to enjoy during the harvest celebration in the award-winning restaurant, alongside other choices such as the popular Sunday Roast, which returns in time for autumn from Sunday 24th September.   The Harvest menu will be available from Wednesday to Friday lunchtimes and will be an autumn set menu.  The Squerryes Winery team will be available talk about what to expect from this year's harvest and how it compares to the summer of 2014 which produced a fabulous award-winning wine. Diners will then have the option to buy a glass of 2014 Vintage Brut Reserve, currently only available in a magnum, to anticipate what the 2023 vintage will taste like. £14 per glass. Usual members discount will apply.
Harvest Tours and Tastings until 22 October 2023
Harvest tours and tastings are the best time to come and see the vines, with grapes ripening and the anticipation of harvest around the corner.
As we approach the end of the growing season, you can enjoy learning about Squerryes wines with a tasting led by expert staff and a front row view of the ripening grapes.  This event is £32 per person and will see our ambassadors take you on a journey to learn about the 300-year-old Squerryes Estate with a tasting of three of the vineyard's signature wines.  Tours will continue after 22 October as Autumn Tutored Tastings and will take place in The Cellar Door and include a sharing charcuterie or cheese platter.  Find out more here.
Squerryes offers a limited number of membership places each year.  Members are required to purchase a minimum of just two cases of wine each year and are invited to attend the special member only events including 'The Harvest Picking Party' on 22 October 2023 which sees members don their wellies, pick up their secateurs, help pick the grapes, and toast the next vintage!
The Estate Deli offers a superb choice of wines and local produce as well as wine tasting flights.
To find out more about visiting Squerryes or becoming a member, visit: www.squerryes.co.uk
Squerryes, Beggars Lane, Westerham, Kent, TN16 1QP t: 01959 562345 e: celebrations@squerryes.co.uk