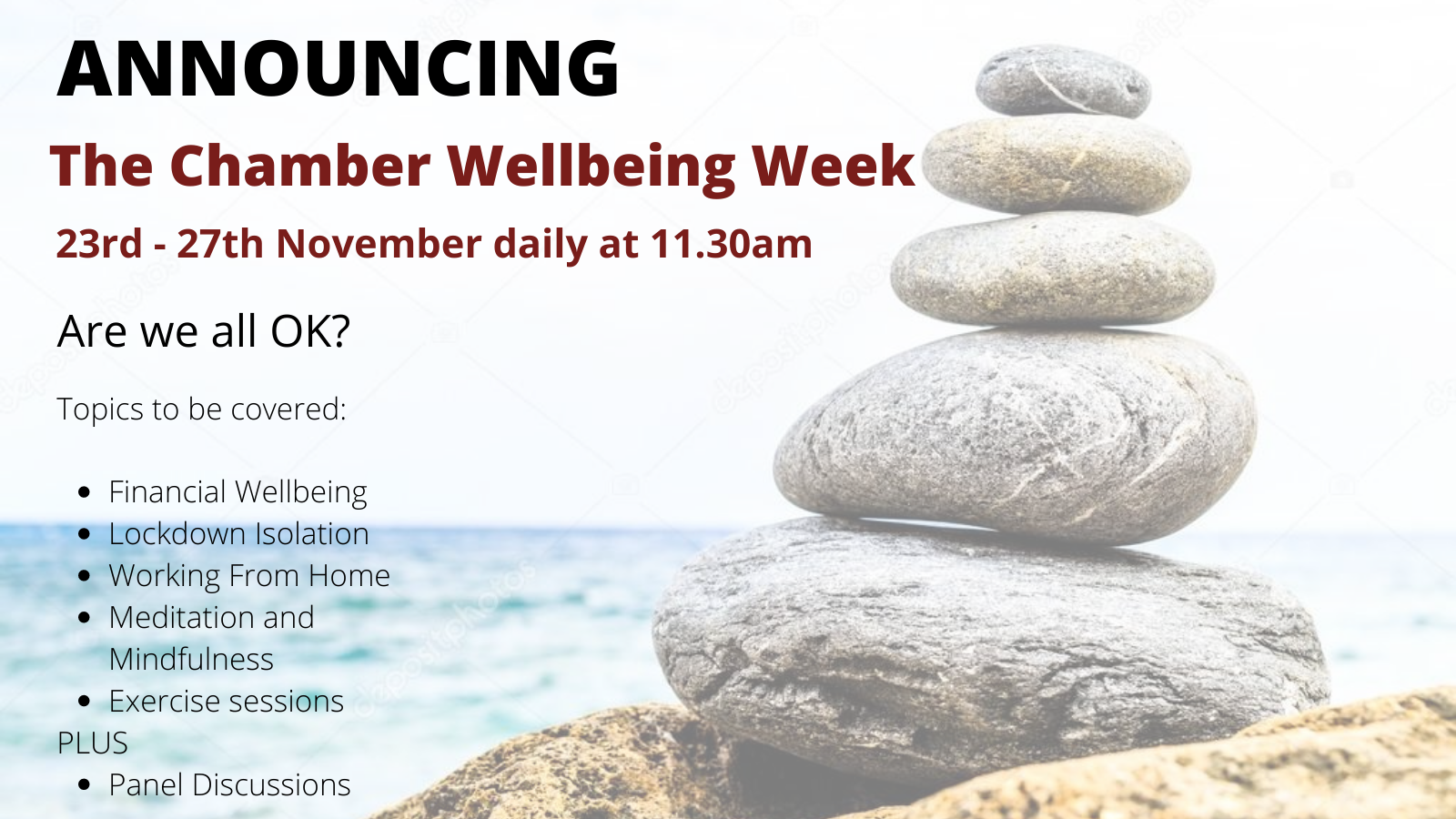 The Chamber launches it's first ever Wellbeing week starting on Monday at 11.30am. The daily sessions will be accessed by Zoom and the link will be available on from our home page.
The week will kick off on Monday morning with a panel discussion facilitated by Dan Keeley Keynote Speaker, Mental Health Activist, Founder & Mission Director at #AREWEOKUK
Monday 23rd 
How are we all? Really? Live on Facebook
Dan Keeley
Julie Phillips – CEO Sevenoaks Chamber
Katrina Walker – Mental Health First Aider and Reiki Master
Denise Holland – Human performance coach and state of mind specialist
Ian Ingles – Musician
Amy Lane – Solicitor at Thomson Snell & Passmore and Next Generation Business Chamber Ambassador
Madeleine Lankston – Grief Recovery Specialist
Denise will then guide us inwards towards our innate mental health and resilience, to help us to cope with the challenges of the current situation.
Tuesday 24th 
Daniel McDermott, Health Team Leader, Sevenoaks District Council oneyoukent.org.uk– The impact of lockdown isolation
Dan Tiley, Healthtribe – Recognising and prioritising your own health and wellbeing needs to become happier and more resilient
Michelle Saunders – Health and Wellbeing Project Officer, Medway Council – Kent and Medway Workplace Wellbeing Award:  An Overview
Wednesday 25th
Carin Soderberg – The Swedish PT Girl – "Loosen up in Lockdown" unlock movement and productivity with an office stretch!
Ruth Hyde – Cryojuvenate – Lockdown Blues, cryotherapy & vitamins for recovery and wellness
Ian Thornley – Osteopath – WFH Stress Relief
Thursday 26th
Financial Wellbeing with our Next Generation Business Chamber members Paul Stevens from Sanlam and Alexander Stennings from Vintage Financial Planning 
Paul will talk about investments and what the markets have been up to over the last few months, and also some things to think about going forward. Alexander will cover mortgages and protection and how to look at your bills and budgeting
Ask Paul any question on how to manage your investments during this uncertain time – via phone, what's app or email throughout the day
Ask Alexander any questions on where you can find the support you need for mortgage and protection advice – via phone, what's app or email throughout the day
Friday 27th
The are we all OK Huddle? – Informal Coffee and Chat with panellists from Monday (if available)
This session will allow everyone that has been involved in the week to come together and share their experiences of the year over a cuppa! We are all here to support each other #onechamber