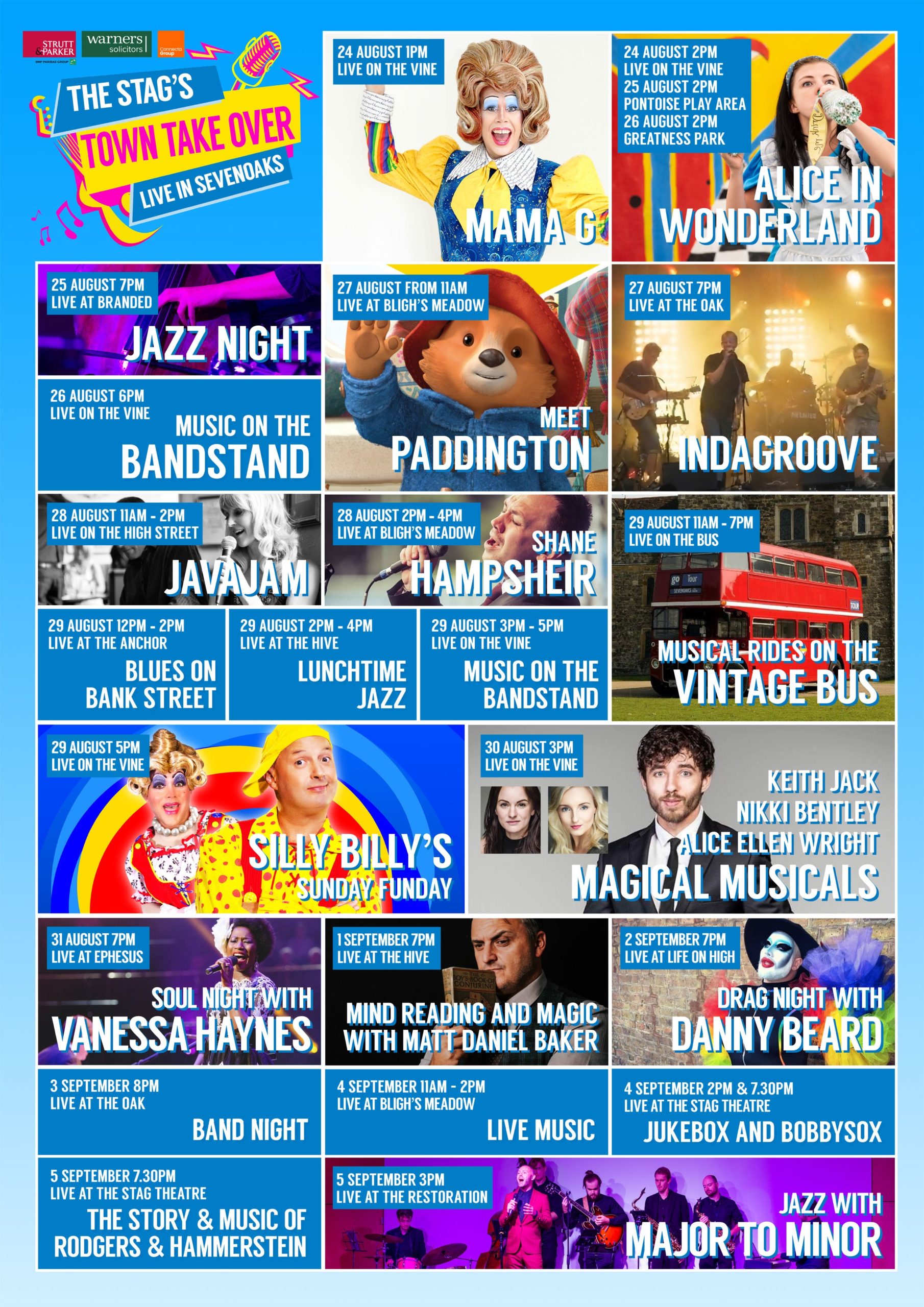 24 August – 5 September 
Sponsored by Strutt & Parker, Warner's Solicitors and Connectagroup
This bank holiday weekend, The Stag Theatre is taking over Sevenoaks, filling the town centre with music and events to help bring people back into town, support the local pubs and restaurants, and return to the theatre and cinema. 
Some of the entertainment industries most talented performers are supporting Sevenoaks. Incognito lead singer Vanessa Haynes, BGT drag star Danny Beard, and from ITV's Penn And Teller : Fool Us, Matt Daniel Baker will all be hosting their own nights in the town's restaurants. Stars of the West End will be singing live, an there will be jazz from Shane Hampsheir, JavaJam and Major To Minor.
Kicking off on Tuesday 24 August with performances from Mama G and Alice In Wonderland in the Vine Gardens, families can also meet Paddington Bear at Bligh's Meadow on 27 August, and enjoy panto fun with a free show from Silly Billy on the Vine Bandstand on Sunday 29 August. The Vintage Bus is back for just one day on Sunday, with up and coming singer songwriters performing live throughout the day on the free hop on hop off service. 
On bank holiday Monday, the magic of the musicals comes to the Vine Bandstand, when Keith Jack (Joseph), Nikki Bentley (Wicked) and Alice Ellen Wright (Les Mis) will be singing in a free West End concert, at 3pm. 
Jazz fans are in for a treat, when JavaJam and swing singer Shane Hampsheir will both be giving free concerts in the town centre, on Saturday 28 August. Major To Minor will be appearing at The Restoration on Sunday 5th September. Party band InDaGroove will be delivering bank holiday vibes outside the Oak on 27 August, and lovers of the blues can grab a table outside the Anchor on Sunday 29 August. 
At the Stag, the cinema will be showing the latest blockbusters, and on stage, rock and roll fans can book their tickets for Jukebox and Bobbysox on Saturday 4 September. The music and story of Rodgers and Hammerstein is brought to the stage on Sunday 5 September.   
The Stag's Town Take Over is brought to the town by the Stag and Sevenoaks Town Council, and has been made possible with support from Strutt & Parker, Warners Solicitors, Connectagroup, and Sevenoaks' KCC member Richard Streatfeild.