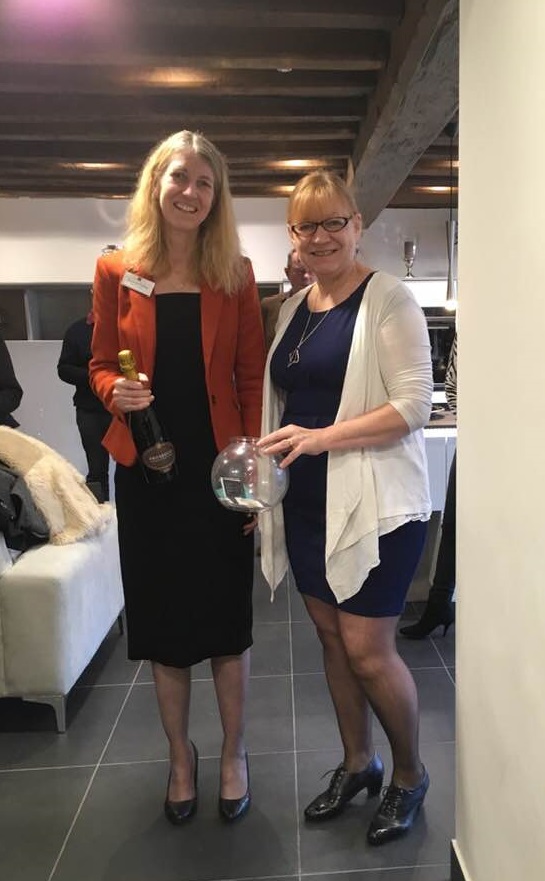 We were delighted to see so many members and guests at our December 1st Wednesday networking meeting. Thanks to Schmidt Kitchens Sevenoaks for hosting in their lovely showroom.
Janice and Adrian Tobitt are the owners. Ben and Monika design the projects. Adrian is a carpenter and joiner by trade and had his own construction company for many years, fitting Schmidt kitchens for over nine of them. He now supervises all projects and the team provide a complete installation service from survey to finish.
Schmidt is a French company with German origins. As well as kitchens they also make living room, office, wardrobes and bathroom furniture. All the furniture is made to measure and of excellent quality. Schmidt Sevenoaks would be delighted to help anyone with future kitchen or interior solutions projects and would welcome recommendations from members to family and friends. Contact Janice on janice.tobitt@schmidt-sevenoaks.com or call 07132 75555.
The December meeting was sponsored by Wanda Ross from Happen who are celebrating 10 years in business.
Happen is a bespoke, full-service development house. They bring top end development to local business providing real results. They take the time to understand the client so they can generate new ideas. Using their wealth of technical experience and ability they create integrated online business solutions. "If it's online they do it." Every aspect of their service is geared to providing an inclusive approach to your online needs.
Wanda said of the meeting:
"It was great to share our message with so many members today. I hope I gave a better understanding of what we as software developers really deliver. Do feel free to get in touch with us. We'll take the time to get to know your business and we're always happy to talk through ideas and offer advice with no obligation. How can we make the web happen for you?"
Contact Wanda on 01732 850224 or email wanda@happenweb.com or visit their website for more information on the services they can offer happenweb.com
Congratulations to Elizabeth Dolding of Warners Solicitors who won a bottle of prosecco in the business card draw. Thanks to Ruth Hyde for passing her win on!  See images of the event on our image gallery
NOTICES
Please take note of the following events and messages regarding upcoming events.
Chamber Christmas Lunch next Thursday 12th December at Knole Park Golf Club sponsored by HR DEPT and Action Coach – last few places available.
Next Sevenoaks Meeting on 8th January kindly hosted by Lavender Fields Care Home and sponsored by business partner Warners.
Next Swanley meeting on 15th January at one of our Charities of the year 'We are Beams'.
Next Generation Quiz Night at Cote Sevenoaks on 23rd January – The Next Gen events are very popular with over 50 people attending their recent Christmas party.
The Next Gen are looking for ongoing sponsorship and support for their events, if any business would like to support this initiative, please get in touch with Amy or Alex. They are also looking for more committee members, particularly someone with social media and marketing experience.
Amy Lane – amy.lane@ts-p.co.uk
Alexander Stennings – admin@vintagefinancialservices.co.uk
Member Feedback Forum – We held a member forum in November with a select group of member volunteers about the future of the Chamber and what members want. We had a great meeting and would like to thank all who took part.  To reinforce the feedback and suggestions we will be sending out a survey to all members over the next few weeks. When this comes out please do take part and help us to provide a Chamber that meets our member's needs.
Aladdin – The production team from this year's Sevenoaks Panto have once again invited Chamber members to the opening night and after party on the 7th December. Details are on the blog page of our website and if you wish to attend please confirm your attendance directly with Melissa at the Stag.
Work Experience – We are currently working on our plans for next year's work experience week for students aged 16+ from local schools for week commencing 29th June. If you would like to get involved please contact Julie.