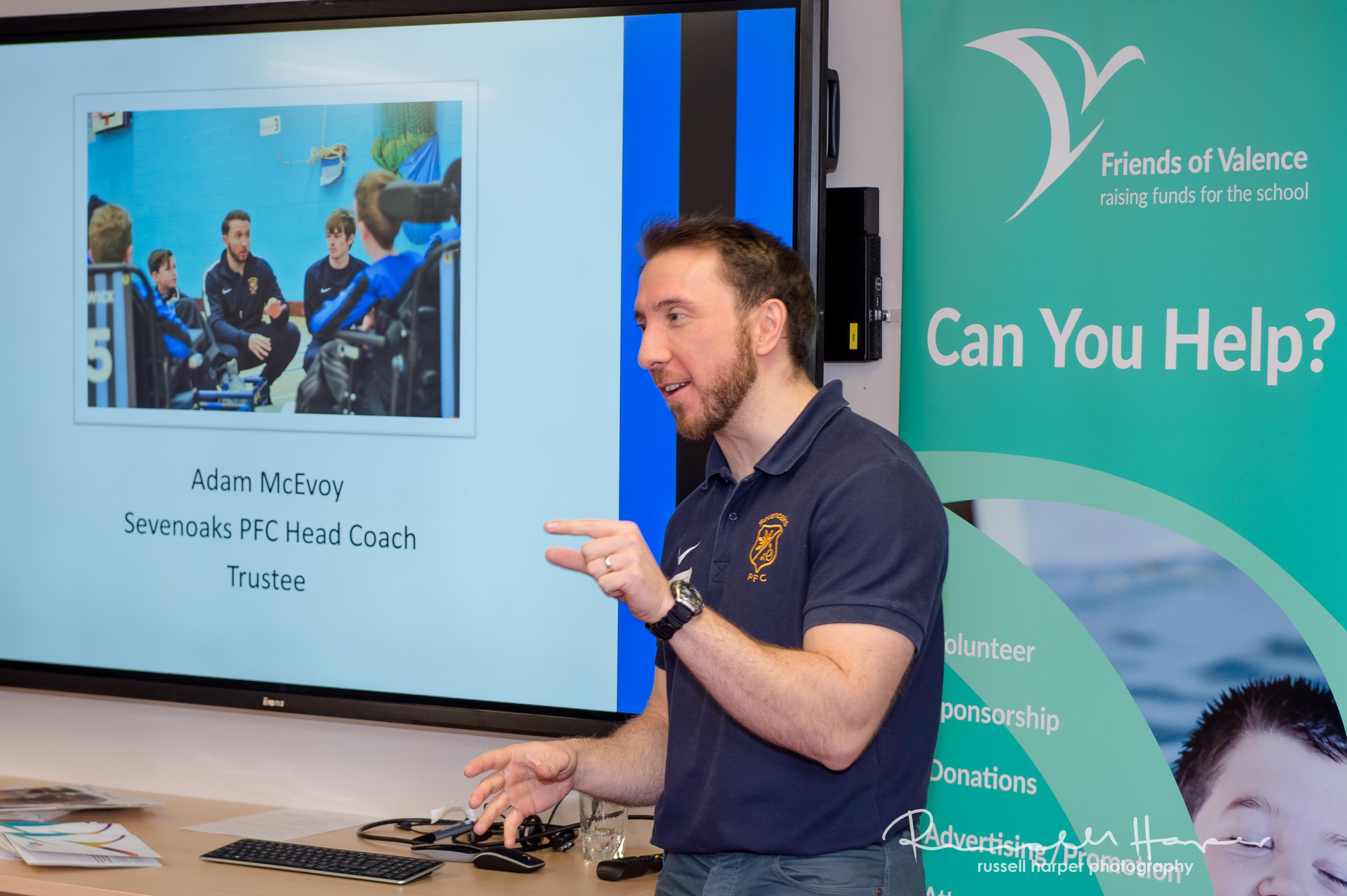 Members enjoyed an inspiring presentation from Adam Head Coach of Sevenoaks Powerchair Football Club and star player Myles and heard about the clubs continued success story!
Our first Westerham networking meeting of 2019 was held at Valence School last Wednesday.  We had a great turnout of members and a few new faces who were welcomed by our regular Westerham networking group.  Thanks to Sophie and the team at Valence School for hosting and to Adam McEvoy and Myles Miller for the hugely inspiring presentation about the Sevenoaks Powerchair Football Club. Myles shared his story about how Powerchair Football has changed his life for the better. For more information visit sevenoakspfc.org.uk or find them on Facebook, Instagram & Twitter.  You can help raise vital funds for the club by donating to the Sevenoaks Mayor's Fund
As always, we offered a business card draw and all proceeds raised will go to the chosen Westerham charity of the year. Chamber members are currently being asked to complete a survey to help us choose three charities to support at our events.  To take part in the survey please click HERE.  William Addis from Thackray Williams was the winner of a bottle of prosecco – Congratulations Will!
If you would like to discuss hiring the facilities at Valence School for any kind of event please contact Sophie directly on spushparajah@valence.kent.sch.uk
Future events to raise funds for the Friends of Valence are:
Wednesday 8th May – Charity Golf Day Westerham Golf Club
For more information or to book a place contact: sportscollegeadmin@valence.kent.scho.uk
Sunday 19th May – Annual Hill Climb Event (pre-1975 cars)
For more details please email friends@valence.kent.sch.uk
Finally, Lewys Steward, one of the PE Coaches at Valence School is running the London Marathon to raise funds for the school. We will be following his progress over the next few months. Watch out for updates on our blog page. If you would like to sponsor Lewys please go to his Virgin Money Giving page HERE
Our next Westerham networking meeting will be on the 27th February at The Kings Arms Hotel.  Keep an eye on our website to find out more about our activities in Westerham, Swanley and Sevenoaks. To find out more about hosting in Westerham or if you are interested in joining us at one of our meetings please get in touch.