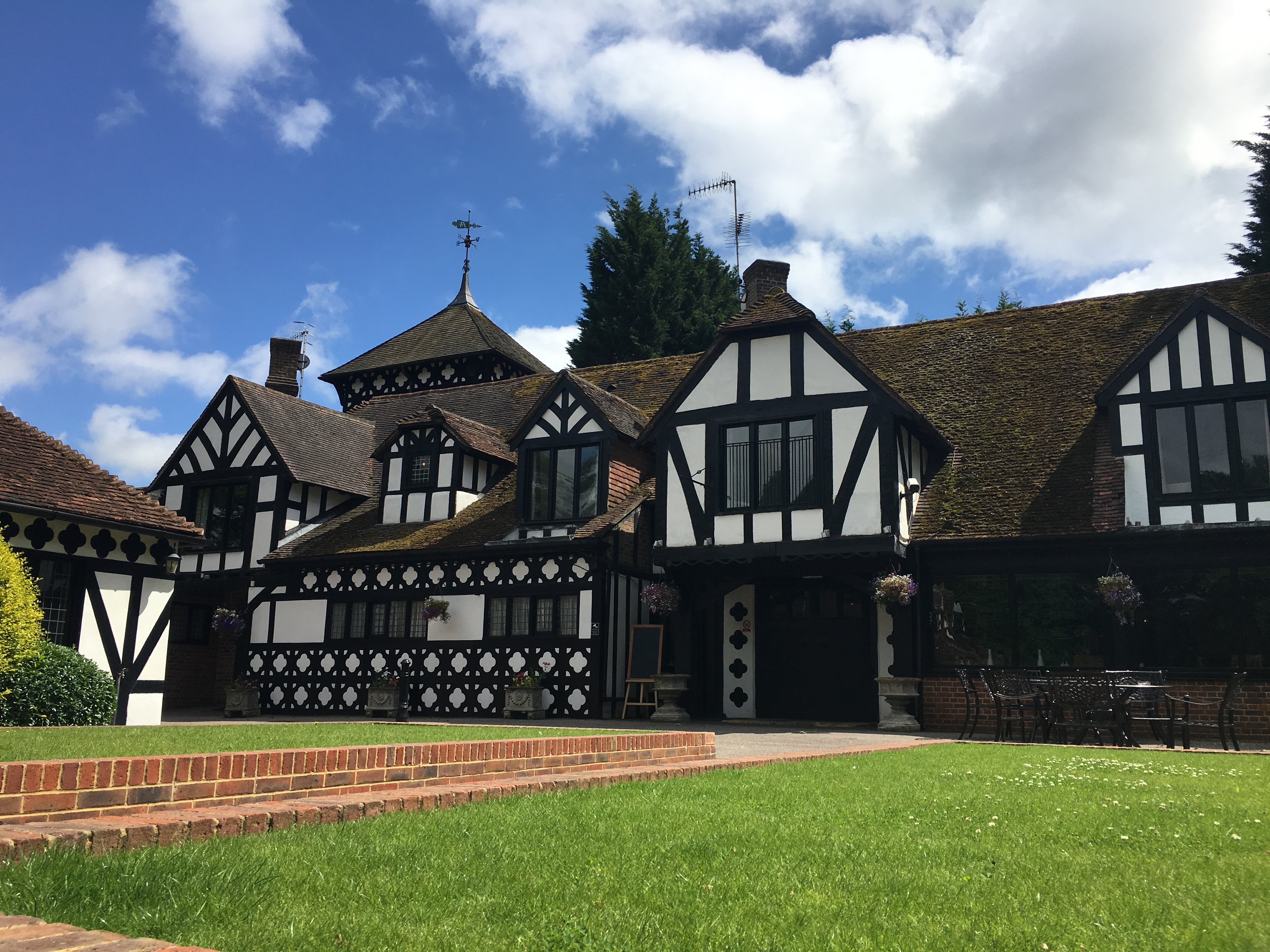 Paul Rainbow from Rainbow Security Consultancy was the lucky winner of a night away courtesy of Hever Hotel, hosts to our November 4th Wednesday networking meeting. He shares here his experience: 
Just past Edenbridge, nestled in the Kent countryside, tucked away near Hever village, and smack bang next to Hever Castle, is the charming Hever Hotel. My wife and I recently spent a night there, arriving  about 3:30 on Friday and departing Saturday morning.
So, was it any good? Should you give it a miss, or give it a go? Did we come away feeling great or grim? And what, if anything, makes it worth visiting over all the other hotels in the area?
Well, let me tell you how it went for us, and hopefully answer those questions and many more you probably didn't even think of asking.
First impressions count, and the approach drive to the hotel gives an instant 'wow!' factor as the 13 century chocolate-box black-and-white 'olde worlde' architecture gives you a warm glow straight away.
There are two car parks on the left as you drive in, one after another, but anyone with a wide or long car would do best to park in the bays just beyond as they are easier to get in to and more accommodating for larger vehicles.
The walk from the car park is through pretty garden borders to an imposing wooden double front door. We visited in March, but I suspect mid-summer with the plants all out it would look gorgeous against the impressive historical façade of the hotel itself. The path approach is wide enough for suit cases or wheel chairs, and the main door is a large double opening door, so plenty of room there. Which, oddly enough, the reception itself lacks. When we arrived there where were three other couples checking in as well as us, and we all had to shuffle around a bit as the front door was shut to keep the heat in. No real issue as it turns out, as the ever-smiling staff pleasantly and professionally processed us all through very quickly. The beams and the galleried landing looked all very impressive though, once you had got over how close the reception desk is to the front door.
And so we were shown to our rooms, and this is the bit that really made it fascinating and quirky and interesting and weird and brilliant, all at the same time.
Usually you go upstairs, or down a corridor, or somehow navigate around and within the building itself to your room.
We went outside to the courtyard at the side of the hotel.
The courtyard itself had been landscaped with flower borders, and individual paths lead off separately to a number of cottage doors in the single storey buildings that enclosed the courtyard.  These doors lead into the individual rooms, which were in fact the hotel rooms.
It was like having your own little cottage with a communal front garden and I was utterly charmed by it. The slight downside was that we had to brave the rain when we went for lunch, so if the weather is bad make sure you have a brolly. A small sacrifice for a terrific bit of quirkiness that really made it for us.
The rooms were spacious, equipped with enough stuff such as a good size TV, hair dryer, two chairs, table, a huge double bed, and a really big, deep bath. The shower was very hot and in fact if anything, too high pressure. My wife had a shower and flooded the bathroom within seconds, fine if you are fore-warned, but it took her by surprise! Anyway, the room was nice and warm when we arrived and we soon settled down to a refreshing cuppa once we had done the obligatory looking in all the drawers, turning the telly on and off, and bouncing on the bed.
We had our meal booked for 7.30 and arrived promptly to be greeted by another smiling and very efficient member of staff (the Maitre d'? Waiter?) who showed us to our table and furnished us with a menu. We were starving and soon ordered food, my wife a burger with triple-cooked chips (it looked just as good in real life as the picture on the website), and I had the roast belly of pork. The food arrived and we were eating just before 8.00, which is about perfect – you don't want to rush, but equally you are starving and looking at everyone else's food around you!
Before main course though we started with the soup of the day, which was mushroom and herb. The waiter had recommended it and I am very glad he did, it was delicious. There was a real fresh mushroom taste to it that made you wonder if there was a recipe we could take home.
For the main course, as mentioned, the burger looked as appetising as the picture on the hotel website, although the initial impression of the pork belly was that it looked a bit meagre and I began to wish I had ordered a burger instead, but it turned out the plate was deeper than I thought and there was, in fact, tons of it and it was delicious, with a real crunchy skin and tender meat. I was stuffed and happy by the end!
My wife's burger looked great and the burger itself had a real home-made impression about it, and I mean that in a good way. Big, meaty, tasty, but not at all fatty. The chips were big and chunky and still had the potato skin on, which is always a bonus. My wife did mention that they were not as crunchy as she was expecting, but that did not diminish the enthusiasm with which she despatched them.
One thing I was particularly impressed with whilst eating, was that when the neighbouring diners departed, the waiter came and cleaned the tables using a spray cleaner. Very thoughtfully, the overspray was shielded from us by a judicious use of a small cloth held up to deflect any errant spray that may have headed our way otherwise. It's the thoughtful details such as this that abound at this hotel and it makes the difference between 'yeah, it was okay', and 'HEY! That was really great!'.
I had been looking at the hotel website earlier in the day as it had the restaurant menu available to view, and was looking forward to the Eaton Mess, to be informed that this was no longer available. Shock horror! I am not fussy, but my wife and I didn't fancy any of the other offerings so asked for a simple scoop of ice cream for us both, even though it wasn't on the menu. This was no problem, the waiter replied, and returned shortly with two imaginatively presented displays of ice cream. It would have been easy to just pop a couple of scoops in a flat bowl as I would have done, and we would have thought 'lovely, some ice cream'. No, this was ice cream with flair. It also helped that the ice cream itself was delicious. Really creamy and smooth.
That night we slept well on our huge bed, feeling stuffed full of lovely food, but very happy.
Breakfast was served from 7:30 to 10:00, and we rolled up about 8:00, still feeling full. However the smell of bacon soon cured us and we both ate a hearty breakfast. The staff (still smiling, polite, courteous and always friendly) were there to guide us as breakfast was more of a buffet and I needed tuition on using the tea and coffee machines. Not that they were difficult, more that I was still half asleep I suspect. There was certainly plenty of choice – cereals, a continental selection, fruit, yoghurt, or a full English, so a veritable cornucopia to set you off on your day.
Reading this back to myself it all seems too good to be true, were there any downsides? Anything that I would tell you to be wary about?
Well, nothing is perfect and it seems churlish to mention this, but in the interests of feedback to the management (assuming they have read this far) and in case anyone wants to know, I was surprised they served NO ALES at the bar! Just some German lager. I am not a big lager or wine fan, but I do like a pint of Spitfire, or Doombar, or even a local brew of some sort, so I was surprised not see at least one brewery there. I would also suggest that a brolly in the room during winter or rainy days may be a nice gesture as most people will not bring one to a hotel. Another small point that didn't affect me, I did hear one lady in the bar asking for newspapers, but there were none to be had. The poor lad behind the bar was then grilled for half an hour as to why he should be getting on his bike in the morning to go and get them for her. He handled it very well though, bless him!  Also, as mentioned, the chips could have been crisper, and, er.., there were no coasters for the cups when you made tea in your own room…and that was about it on the downsides.
So, would I recommend Hever Hotel? I most certainly would. Its position is ideal for exploring a lot of Kent, and it is right next to Hever Castle and Hever Golf Club. Anyone used to staying in the big chains will really appreciate the quirky nature of the hotel layout, the historical 'picture book' architecture, and ever the helpful, always smiling staff. Plus, the food is great!