How To Get High Quality Leads From LinkedIn
19 April @ 10:00 am

-

12:00 pm

£95.00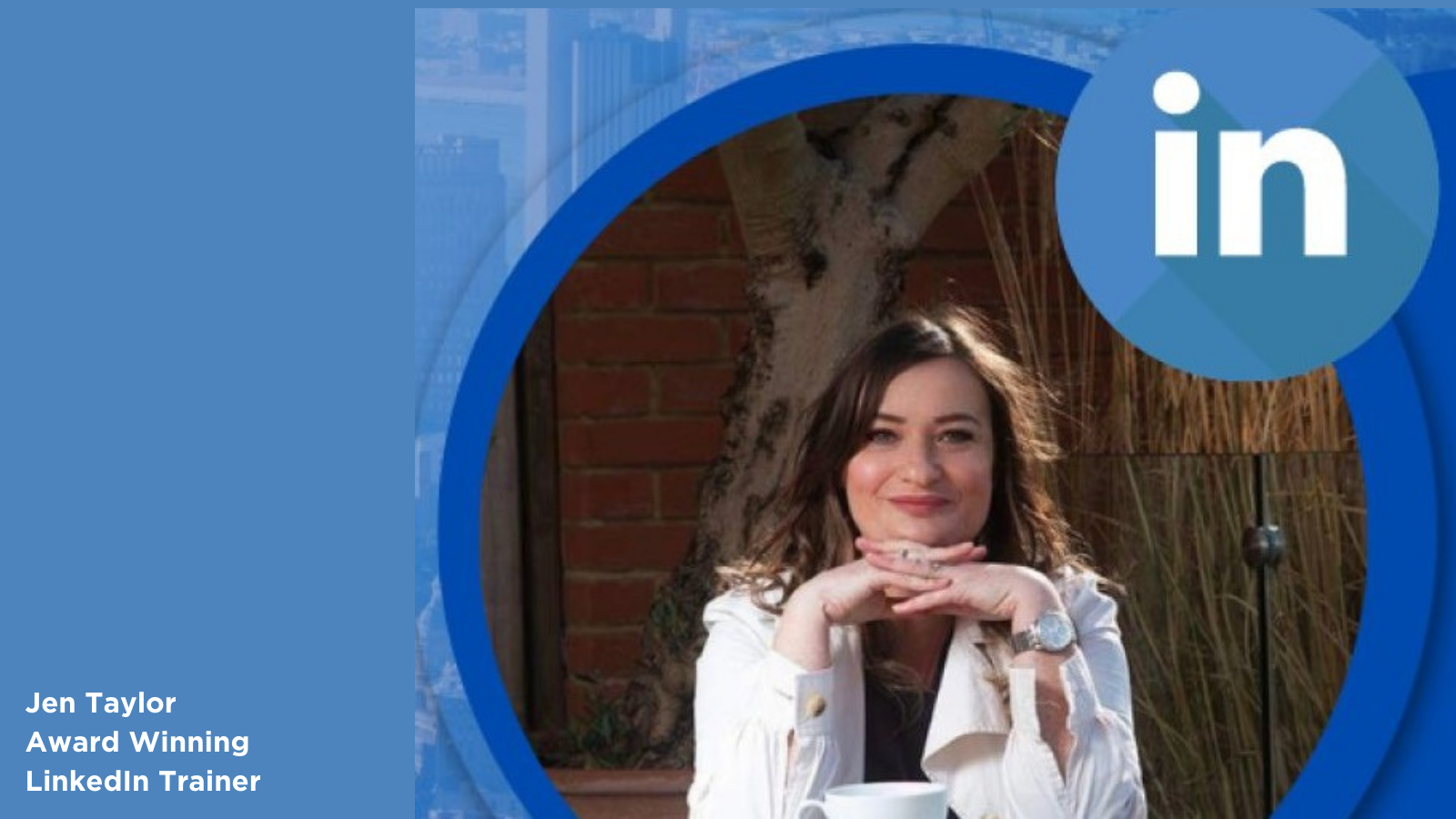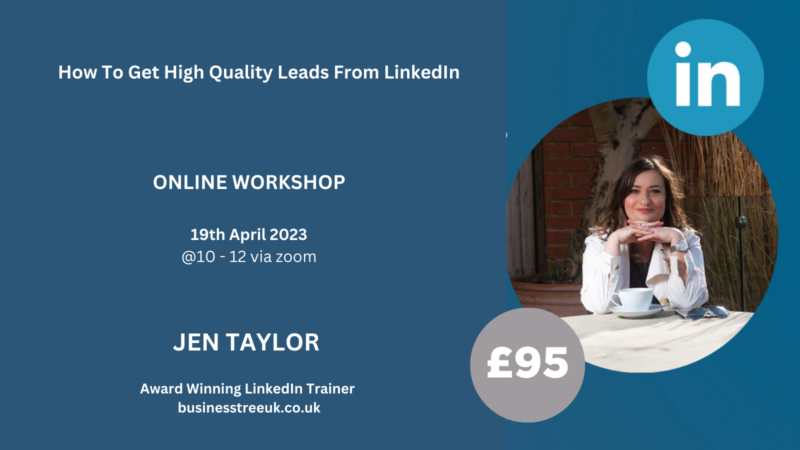 How To Get High-Quality Leads From LinkedIn – £95.00 pp
There Are Over 875 Million Users on LinkedIn from 200 countries and regions worldwide.65 Million Users Are Business Decision-Makers. Four out of every five users drive business decisions
That's why B2B marketers use LinkedIn because it's the largest online professional network that provides the perfect source of contacts where business is done and where opportunities emerge.
The right platform combined with the proper methods is a guaranteed way to grow your business and get the right leads.
During this 2-hour online interactive workshop, facilitated by Award-winning Jen Taylor from Business Tree Consultancy, you will learn the step-by-step process to generate leads with zero marketing spend. If you're B2B (you sell to other businesses), you have a product or service and want to attract leads and clients, this is for you.
We all know that businesses fail without well-executed lead generation and sales strategies, but when you get your process right, success is inevitable and it can all be accomplished without the cost of LinkedIn paid advertising campaigns.
Combining the art of social selling and the power of LinkedIn, you will learn how to attract leads with confidence and credibility. The key to success is not through sharing content alone. Content has its role and is important as we learn in our LinkedIn Zero To Content Hero course, but it isn't going to generate a steady stream of clients.
During this workshop via Zoom, you will learn how to:
🏆Know & find your target prospects on LinkedIn
🏆How to create content that generates leads
🏆How to increase content engagement
🏆How to turn opportunities into leads
🏆How to comfortably move the conversation offline and to the next step to winning new business
⭐Jen will also provide a free LinkedIn Audit for each attendee
My clients had this to say about my training:
"I engaged with Jen because I felt that one thing was missing from my LinkedIn knowledge – generating leads through Linkedin. Three big benefits came out of this work for me.
1) Review and revise my profile – my profile and post views have increased x5.
2) An effective posting schedule – my engagement is up from 10 – low 100's to over 1,000
3) How to follow up – from posts: 3 x 1-1 meetings booked and one sale secured.
I can thoroughly recommend Jen's training"
"I wanted to take responsibility for my business development and when I spoke to Jen I knew from the outset that she was what I needed for my business. In my opinion, you can't afford not to learn or use Linkedin. I was doing things that were a bit hit and miss but now I have a clearer strategy. I've learnt about content, social selling, networking and building relationships. I like that the sessions held me accountable with exercises".
"I have been using LinkedIn for a while but recently decided to focus more on this Social Media medium. I have attended Jen Taylor's LinkedIn Programme, Level 1-3, to optimise my profile, create a content plan and learn how I can generate effective leads to grow my business to get the best results.My SSI score now shows that I am in top 1% in my industry!My connections, views, and post views have doubled in this time and I have gained a couple of leads during the course, and peopleare commenting that they are seeing me on their feed. Even if you have used LinkedIn for a while, Jen will gently guide and support you on your journey to LOVE LinkedIn, making it the go-to medium that builds your informative network for you and your business. Thanks Jen."
Jen can help you to build a credible, authentic and trustworthy online brand, develop your strategy and content plan, and get noticed to grow your company or organisation to get more meaningful opportunities.
⭐LinkedIn Profile & Content Audits
⭐One to One Bespoke Training 4-week courses
⭐8-week Signature programme
⭐Half & Full Day Corporate Training Workshops
Members and non-members welcome.
Please connect with Jen HERE